Do your brakes need repair or replacement? Are your brakes serviced regularly to ensure safety on the road? As one of the most important parts of your vehicle, it's important to keep your brakes in perfect working order. At Jim's Berwyn Auto Repair and Jim's Berwyn Sunoco, we specialize in brake service and repair. From brake pads and fluid to calipers and cylinders, we can service and repair your entire brake system to ensure the safety and performance of your ride.
At Jim's Berwyn Auto Repair and Jim's Berwyn Sunoco, we offer professional mechanical work at highly competitive prices. We treat each customer with respect and deliver great results, meeting and exceeding the demands of every job. If you need a brake inspection or simple service, we are here to help.
In order to stay safe on the road, it's important to service your brakes on a regular basis. We recommend that brakes should be checked at every vehicle service and inspected by our professional mechanics whenever issues are noticed. Years of experience and the right equipment enable us to keep your brakes operating properly year round. From top notch electronic diagnostic and service equipment to years of brake service and factory training, our team is uniquely qualified to meet any brake service need.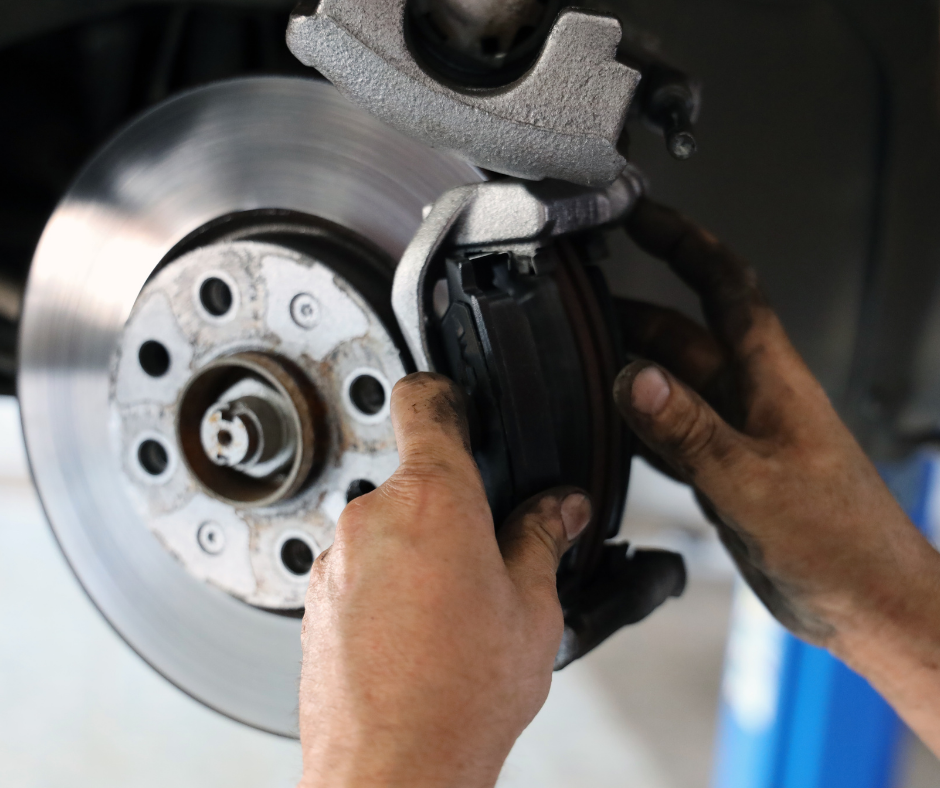 At Jim's Berwyn Auto Repair and Jim's Berwyn Sunoco, we offer dedicated brake inspection and repair solutions along with other auto maintenance and repair services.
Regular brake service includes:
Brake fluid and brake pads inspected

Fluid and pads/shoes replaced if needed

All brake system components checked

Wheels, tires, and related parts inspected

Vehicle tested on the road
Brake Performance Issues and Repairs
Along with inspecting and maintaining your brakes during a regular service, we can remedy specific problems with your brake components. Whenever your brake system is affected, mechanical issues need to be identified and sorted out straight away. If you notice any of the following signs, it's important to schedule service immediately:
Brake light appears on the dashboard

Changes in brake response or feel

Pulsing or shaking sensations in steering wheel

Car veers to one side when brakes are applied

Grinding sound or other strange noises

Burning smell or other strange odors

Vehicle seems harder to stop or control
If any of these symptoms appear, your brake system may be compromised. Professional brake inspection is recommended as soon as possible to ensure your safety and that of your passengers as well as other drivers.
At Jim's Berwyn Auto Repair and Jim's Berwyn Sunoco, we provide a wide range of auto maintenance and repair services at a great price point. We have experience working on all vehicles, from family cars to commercial vans and trucks. Along with comprehensive brake servicing and repair, we also specialize in PA State Inspections, engine repair, oil changes, tires, wheel alignments, suspension, and air conditioning systems. For auto service work performed by trusted local experts, our friendly team is here to help.
About Jim's Berwyn Auto Repair
Jim's Berwyn Auto Repair and Jim's Berwyn Sunoco have served the Main Line for more than 40 years, so you can be assured of local knowledge and industry expertise. Our skilled team are ASE certified master technicians, so you can be assured of a job well done every time.
From scheduled servicing to one-off repairs, from new tires to air conditioning systems, we can do it all. Wherever you are in the Main Line area, our people combine years of expertise with advanced equipment to fix your problems and get you back on the road.
If you need brake servicing or repairs, please contact Jim's Berwyn Sunoco or Jim's Berwyn Auto Repair today.